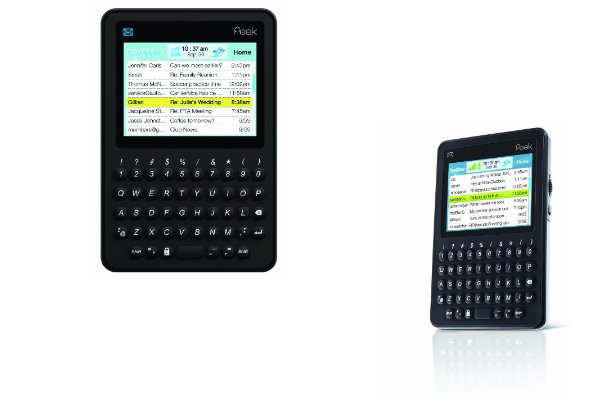 Are they for real? TwitterPeek Mobile Tweeting Device with Lifetime Service Included
They're going to have to open a rehab center for twitter users!
* Unlimited tweeting anywhere, anytime
* No contracts, no credit checks, no activation fees ever!
* Large, full-color screen and full keyboard
* Long battery life of 4-5 days. Fully recharges in under 2 hours
* Usable throughout the U.S. with full nationwide coverage
From the Manufacturer
Twitter better with TwitterPeek, the most exciting way to experience Twitter on-the-go. In just the past year, Twitter has become a powerful world phenomenon that millions of people log into everyday to share interesting news, stories, thoughts and events as they happen. It's the new and fun way to get the best of the web summarized and tailored to your interests. With access to your Twitter account on-the-go, you can tweet your life instantaneously and participate in live conversations happening all around the world.
TwitterPeek keeps you connected with instant tweet delivery, so you're always the first to receive timely, fun, useful and provocative information direct from the source. You might follow the New York Times for breaking news. Lance Armstrong might invite you along on a bike ride through Hamburg. Oprah might let you in on the latest book she's reading. Or, better yet, you might discover the coffee shop around the corner is offering free scones until 11 am for all tweeters. You'll discover an infinite world of conversation with the nifty, pocket-sized TwitterPeek.
Perfect for Twitter addicts, newbies or anyone interested in getting into Twitter, TwitterPeek makes a great holiday gift. It's everything you love about Twitter packed into a slim, lightweight mobile gadget that works anywhere in the US – no wifi necessary! Tweet, retweet, reply and direct message your favorite celebrities, friends, co-workers and family. TwitterPeek's intuitive menu, handy scroll wheel and universal tweet inbox make it as easy to master as email.
Because TwitterPeek is designed for Twitter, it provides a tweeting experience superior to any website or smartphone application. No more waiting for tweets to download or clicking the "more" button to see old tweets. TwitterPeek's "always on" tweet delivery makes it a snap to follow 100's of people throughout the course of your day. Best of all, you don't have to spend $50/month on an expensive smartphone data plan to get Twitter.
Your TwitterPeek device comes with a lifetime of unlimited service – no contracts, no hidden fees, no overages, no headaches.
* World's first Twitter mobile device
* Unlimited tweets and direct messages
* Nationwide coverage. No wifi signal necessary
* Includes service for lifetime of device
* No contracts or hidden fees
* "Always on" instant tweet delivery
* Full QWERTY keyboard, large color screen, click scroll wheel
* Long battery life lasts up to 4 days
* 30-day money back guarantee
* 1-year manufacturers warranty
What is TwitterPeek?
TwitterPeek is a slim, lightweight mobile gadget that enables you to use Twitter on-the-go from anywhere in the US. It is the world's first Twitter device from the makers of Twitter and Peek. Because it is designed exclusively to Twitter, TwitterPeek offers the best mobile Twitter experience available.
Enjoy all of your favorite Twitter features with TwitterPeek including reading tweets, sending tweets, replying, retweeting and direct messaging.
Always On
TwitterPeek works on a high-speed wireless data network with nationwide coverage, so it's always on and receiving tweets. With smartphone applications for Twitter, you have to switch over to an application and wait for only your 100 most recent tweets to download. With TwitterPeek, you get all of your tweets as they happen – instantly! Plus, TwitterPeek is more affordable than any smartphone data plan.
No Contracts. No Hassles.
Nationwide Coverage
Blinking, Ringing and Vibrating Alerts
$200