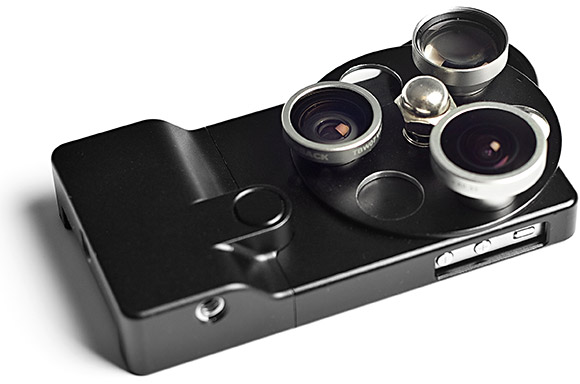 This is pretty interesting. This will take instagram to a whole other level
How cool is this iPhone Lens Dial from photojojo, that  features a rotating dial with three different lenses: a 0.7x wide angle, a 0.33x fish-eye, and a 1.5x telephoto. The dial is made from aircraft grade aluminum, holes in the rotating dial will let you take pictures with the iPhones regular camera.
If you're anything like us, a trip to the Optometrist is a real treat. It's like a Photographer's dreamland! Full of big, beautiful, and fascinating optical gadgets.
After all, getting new glasses is like getting a new lens for your brain. (If only our health insurance covered a Canon L lens).
That must be why The iPhone Lens Dial caught our EYE (heh). It looks just like a Phoropter, that doohickey the doc uses to test our sight!
The iPhone Lens Dial boasts three optical-quality coated glass lenses: Wide Angle, Fisheye, and Telephoto. All wrapped up in a slim aircraft-grade aluminum jacket equipped with two tripod mounts (for portrait or landscape shots).
To switch between lenses just rotate the disc! Best part: the lenses never leave your phone, so they're always at the ready.
Use the 0.7x Wide Angle for sweeping landscapes or get fun warped images with the 0.33x Fisheye. Switch to the 1.5x Telephoto and get nearly two times closer to your subject. Wowza.
The Lens Dial: like a new pair of spectacles for your iPhone!