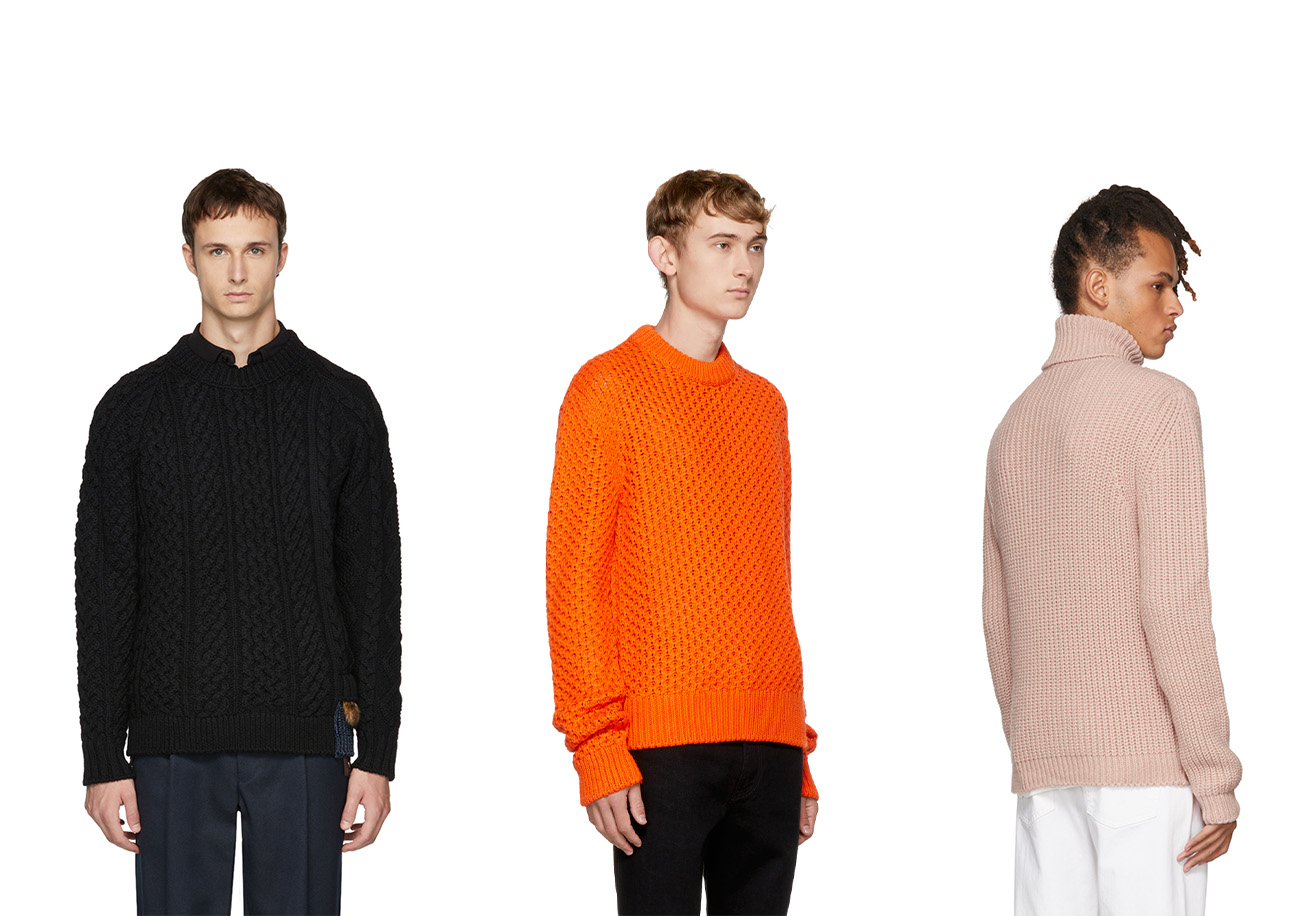 ---
As with any past season, chunky knitwear has always been a quintessential part of any man's wardrobe. You'd be wrong if you thought there were solely reserved for the holiday gatherings. What we love about chunky knitwear is the warmth and comfort that it provides. Moreover, its an easy wear for casual days out or it can be sharpened with an soft button-up shirt underneath. If you're looking for another way to layer, a chunky knit sweater can balance the scale when it comes to putting together an outfit.
Let us know what your favourite piece is from our picks in the comment section below.
Here are our top picks for this season's knit sweaters:
---
---
MSGM is an Italy based brand emphasizing in timeless silhouettes with a modern day street style twist. This season they deliver a colourful nature influenced collection for their men's spring 2018 collection.
Italian brand, MSGM delivers a simple and casual rendition of the turtleneck. Featuring a thick ribbed knit, tonal stitching and a comfortable wool/acrylic blend. This piece stands out because it a classic everyday piece that can be worn for number of occasions like, a casual dinner date or a relaxing evening preparing a more intimate dinner for two. Wear this with grey flannel trousers and a pair of cream pointed Chelsea boots to complete the look.
$505.
Available online at SSENSE.
---
---
Calvin Klein's creative director, Raf Simons, has provided strong and dauntless energy following his appointment to the helm of the fashion brand. Simons has provided a youthful vision to the brand, pushing the young spirit through recent runway shows and collaborations with artists.
This energy carries over to their latest autumn offerings – A perfect Halloween-esque knit sweater. Made from a wool/acrylic blend, this sweater features a simple thick cable knit design and tonal stitching. This piece can be paired with a nice black denim shearling coat, black trousers, and a pair of cream suede boots to compliment the look.
$895.
Available online at SSENSE.
---
Kolor is a Japanese based brand with a shop in Ginza, Tokyo. The brand houses timeless silhouettes and dapper style. 
This season you can get your hands on a cool, thick knit sweater that breathes classic James Bond at the cottage vibes. Kolor also adds a nice rustic touch to the left side of the cable knit sweater by adding a faux fur underlay and a blue rib knit trim panel. This piece can be paired a pair of grey slate trousers and brown moccasin loafers for a comfortable fireplace lounge look.
$1025.
Available online at SSENSE.
---