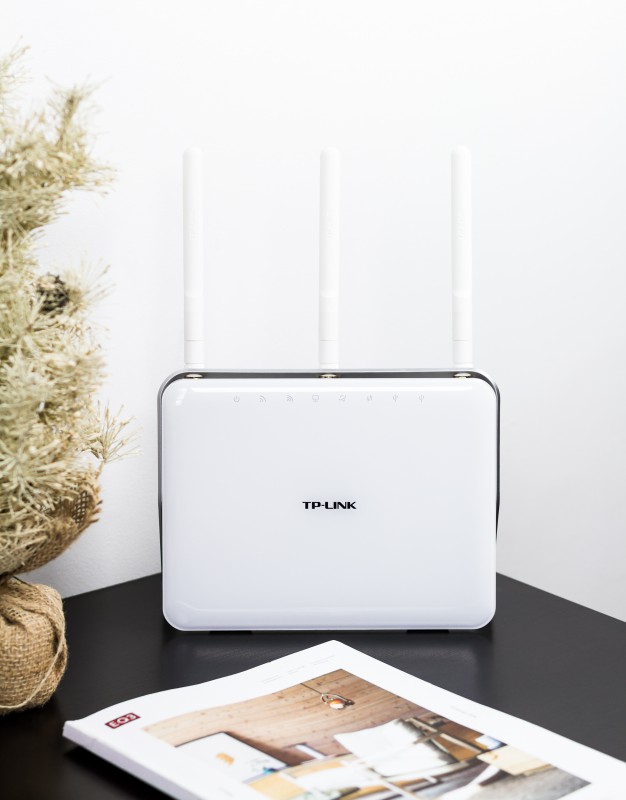 ---
As our smartphones and laptops get faster, our routers need to as well. If you're in the market for a mid-tier to high level router, you should take a good look at tp-link's C9 AC 1900. At first glance, the C9 is nicer than most devices you see on the market. Most routers tend to be encased in rather unexciting cases but this router boasts a clean and glossy white casing with silver accents. With this in mind, we are willing to overlook the fact that you can't hang it up against a wall or flat because it looks good anywhere you put it.
It has a streamlined design where you can easily tell apart the lights indicating power, Wi-Fi connection, and Internet connection. Behind the C9 you'll find, from left to right, a USB 2.0 port, the WPS and reset button, the Ethernet port, four gigabit LAN ports, and finally, the power socket and switch. There is also a USB 3.0 port and wifi on/off switch on the left side.
When it comes to performance, the C9 is capable of transferring amounts up to 600Mbit/s transfers over 2.4GHz and 1,300Mbit/s over 5GHz. This means you'll get to enjoy HD streaming and online gaming without fear of interruptions. The triple antennas at the top also distribute the signal and they are adjustable so they can be pointed in the right direction. We set up the C9 in our office and we found the Wi-Fi connection to be noticeably faster. Our day-to-day includes sharing, downloading, and uploading different types of media files on social media channels. For us, the file sizes range from megabytes to gigs and we saw an overall improvement in performance when it came to complete these tasks.
In terms of setup, its very quick and easy. While it's not exactly a plug and play, you'll be able to set up the router in a few short minutes. Overall, the page is laid out with clearly marked icons denoting the kind of setup. With that being said whether, you are a rookie or an expert at setting up networks, you'll come across no issues.
Learn more about tp-link's C9 AC 1900 router HERE and its available for purchase at AMAZON.
Notable features:
Supports 802.11ac standard-the next generation of Wi-Fi
Simultaneous 2.4GHz 600Mbps and 5GHz 1300Mbps connections for 1.9Gbps of total available bandwidth
3 dual band detachable antennas provide maximum omni-directional wireless coverage and reliability
Beamforming technology delivers highly efficient wireless connection
1GHz dual-core processor ensures no interruption when simultaneously processing multiple wireless or wired tasks
USB 3.0 + USB 2.0 Ports – easily share a printer locally and files & media with networked devices or remotely via FTP server
---