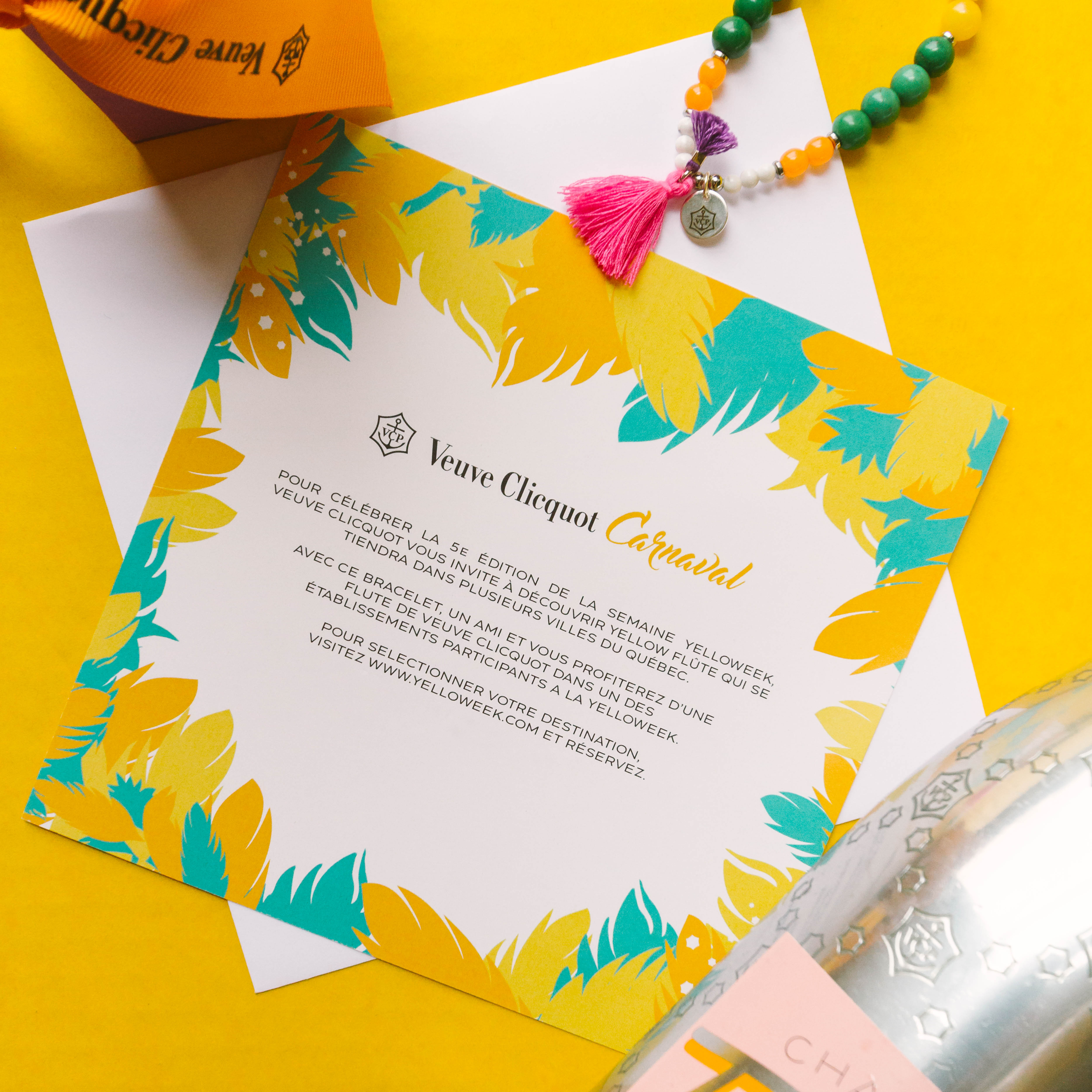 ---
On May 1st, Veuve Clicquot will launch the 5th edition of #Yelloweek, a seven day celebration of one of Canada's favourite champagnes. During the week, the Champagne house invites everyone to enjoy a festive atmosphere at the Clicquot CARNIVAL, which will take place simultaneously in Quebec, Ontario, Alberta, and British Columbia.
Again this year, Veuve Clicquot offers a series of events that highlight the qualities and the joy of the legendary House.
If you're like us and call Montreal home, you will find all the information regarding the various events of Yelloweek in the city.
#Yelloweek Montreal 
Yellow TABLE offers a unique menu with the agreements of Veuve Clicquot in the best restaurants in town. Here is the list of the participating restaurants:
Tuesday, May 2nd at Jatoba.
Wednesday, May 3rd at The L'Atelier de Joel Robuchon.
Thursday, May 4th at restaurant MKT.
Friday,  May 5th at Maggie Oakes.
Yellow FLUTE is a time where fans can celebrate #Yelloweek with an aperitif and a bite prepared by the head chef from each restaurant.
This all starts on Monday, May 1st and continues on to Sunday, May 7th at The Bird Bar, Houston Avenue Bar & Grill, Ristorante Beatrice, Scarlet, and Tapas 24.
Yellow NIGHT is presented in collaboration with Nightlife. It will parade the festive spirit of Veuve Clicquot with a night tour to some of Montreal's premier nightclubs. Yellow NIGHT takes place on May 6th at Somwhr and Flyjin in Montreal.
Yellow BRUNCH takes place the following Sunday morning on May 7th. As tradition has dictated, #Yelloweek will conclude with a brunch at supper club, Buonanotte. The celebration will continue with tasty Italian fare and of course, more champagne.
Yellow SHOP is the destination to get your hands on Veuve Clicquot inspired merchandise. Visit the boutique, Alton Gray, in Carrefour Laval throughout the entire month of May!
Yellow HOTEL offers luxurious nights full of surprises courtesy of Veuve Clicquot and the Hotel Sofitel.
Yellow TASTING. Discover Veuve Clicquot firsthand with tastings taking place all over in the city.
Starting in Laval Centropolis SAQ Saturday, April 29, 11 pm 30-16: 30 pm, the DIX30 in Brossard Sunday, April 30, Atwater in Montreal Saturday, May 6 and Île-des-Sœurs Sunday May 7, 13 am to 17 pm.
For more details and schedules of each province, visit yelloweek.com
You can also follow Veuve Clicquot Canada on Instagram, @VeuveClicquotCanada and use the hashtag #Yelloweek to keep up with the events of the week!
---