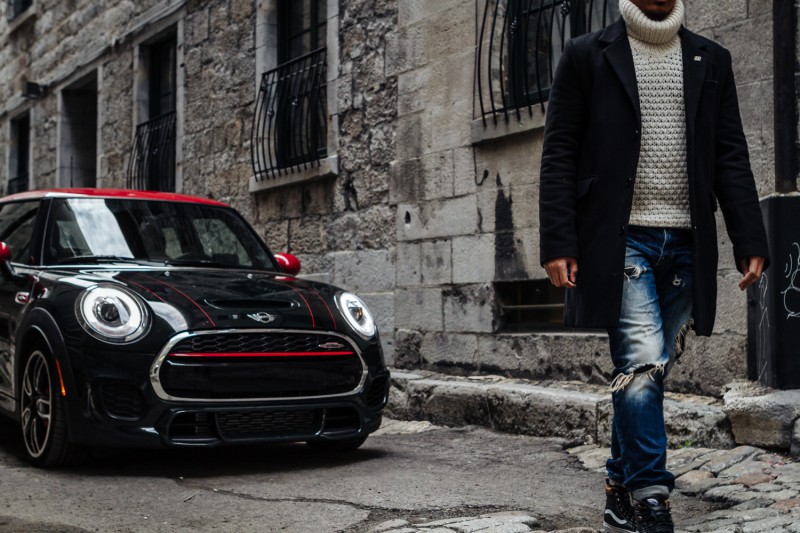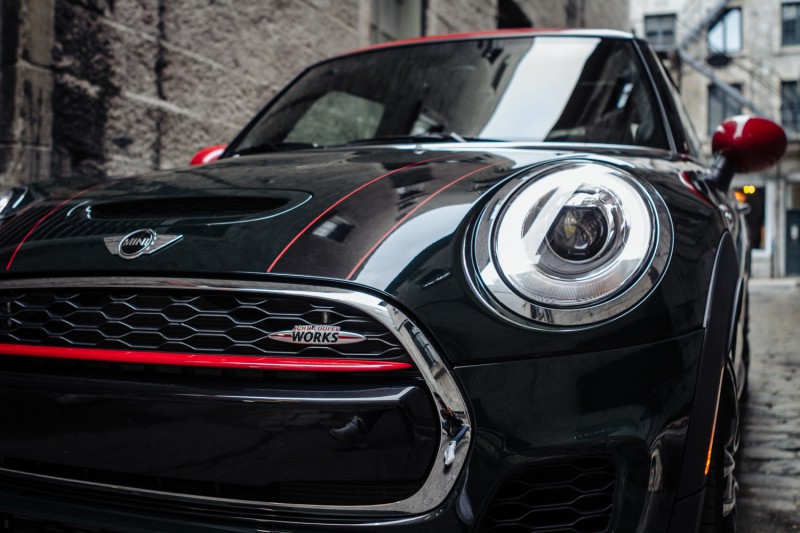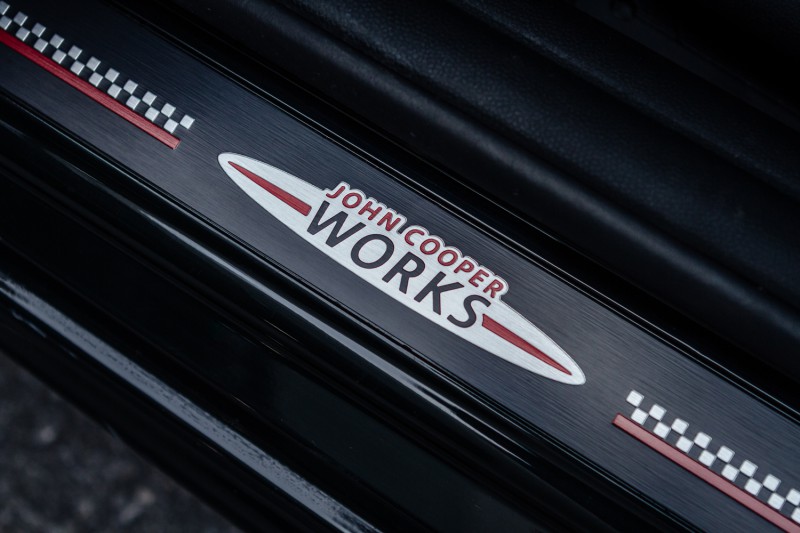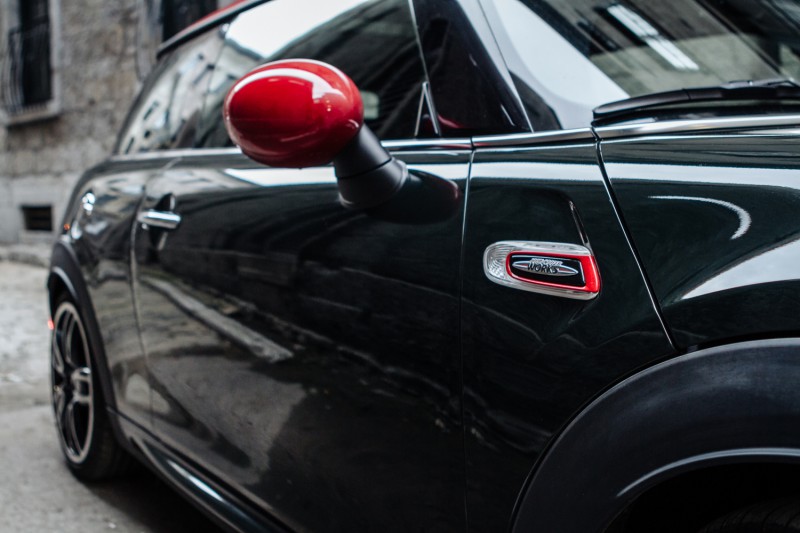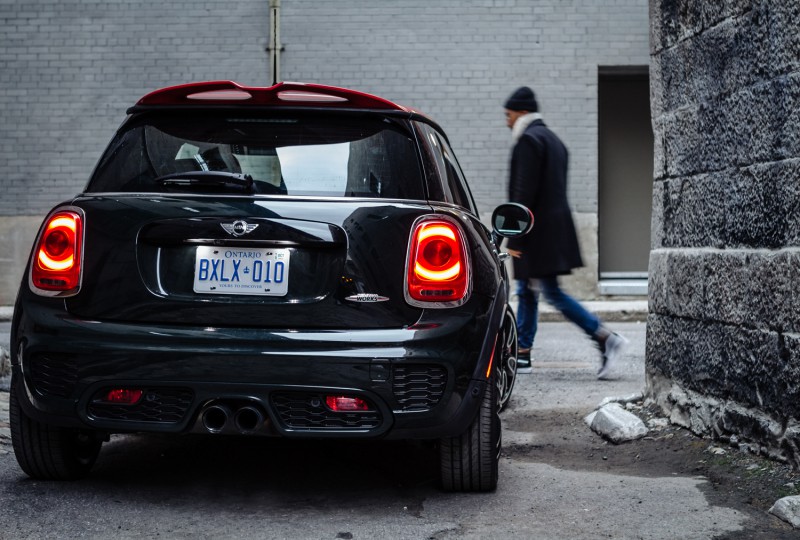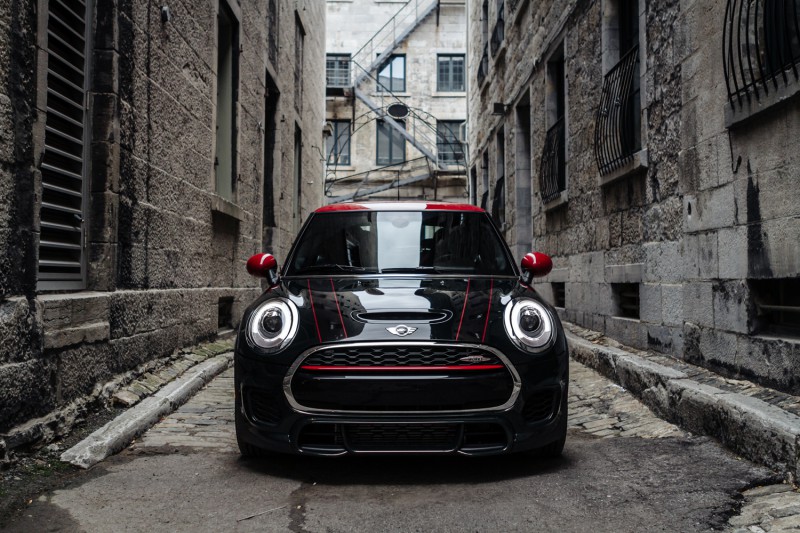 Mini Cooper's John Cooper Works has a long standing racing history. It all began when the man himself won a string of racing victories with his small Mini throughout his lifetime. With that being said, don't be fooled by the size of the Cooper that you see above. Not only is it the perfect vehicle for urbanites but it packs the punch needed to provide a satisfying drive. Let's start first with the engine, the JCW is equipped with a 2.0-liter, twin power turbocharged and intercooled DOHC 16-valve inline-4 with a direct fuel injection. The result is a total of 228-horsepower with 236-lbs of torque, which propels the car to 0-60 mph in 5.9 seconds and a top speed of 153 mph. In terms of stopping power, the large 17-inch wheels are complemented by 4-piston aluminum Brembo brakes with 13.19-inch ventilated brake discs.
The exterior is built with a beefier, full body MINI Aero Kit that features a dual exhaust, while the exclusive deep green paint is accentuated with contrasting red and black racing stripes. The racing inspirations carry on inside, as you'll sit in a large bolstered seat and a well sized three-spoke steering wheel. The interior is are put together with handsome Dinamica microsuede, leather, and red contrast stitching.
Overall, we loved hearing the turbo snarl as we drove the JCW, and its three driving modes, GREEN, MEDIUM, and SPORT provided a versatile driving experience. We felt comfortable leaving it in MEDUIM, as the car maintained a satisfactory level of responsiveness, along with a softer ride from the suspension. We were also impressed with the steering capability of the vehicle thanks to the electric power-assisted steering and cornering brake control featured in the car. Although, if you want an exhilarating drive, we recommend that you drive in SPORT… all the time, trust us, you won't get tired of it.
Learn more online at Mini Cooper.
Shot by Jon Carlo Tapia.